Last year I did a little series of posts that were based on the premise of drafting a certain player. I'd highlight a particular player's skills and then explain how I thought they'd fit in on the Eagles. You can see them here:
Melvin Ingram
,
Mark Barron
,
Chandler Jones
(don't click that link unless you've got a lot of patience),
Quinton Coples
,
Luke Kuechly
,
Michael Brockers
,
Dontari Poe
 and
Ryan Tannehill
. I'm pretty happy with the way those turned out so I'm going to do some again this year leading up to the draft starting with my man-crush, Star Lotulelei.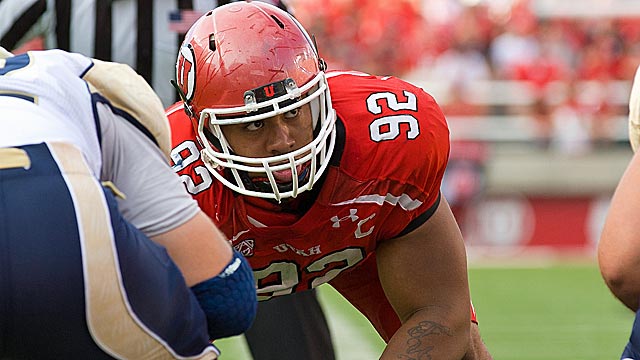 In 2007 the University of Oregon was sniffing around the state of Utah looking for the next Haloti Ngata. They ended up recruiting a big Samoan defensive tackle from Cottonwood High School, a guy who was touted as the best DT prospect from the state of Utah since Haloti Ngata. They weren't recruiting Star Lotulelei, they were recruiting, Simi Fili. Coming out of high school, Star Lotulelei was a 240 pound, 3 star recruit who had committed to BYU but didn't qualify academically. He ended up moving furniture, not in college or playing football. Nothing Star Lotulelei has today was gifted to him, he's a man from humble beginnings and he's earned everything he's about to get; born in Tonga, failing to qualify for college and playing second fiddle to Simi Fili in high school.
It's kind of funny how these things work out, two high school players whose paths started similarly but ended wildly different. Star's counterpart, Fili, also failed to qualify for college out of high school and he never made it to Oregon. As a matter of fact, the best thing since Haloti Ngata never even made it to division one football. Fili, was billed as the next Haloti Ngata coming out of high school but it was the 3 star, 240 pound DT who ended up blossoming into the Ngata-type player. Simi Fili now reportedly competes as a competitive lifter after toiling in JUCO for a few seasons. I think it just goes to prove how difficult Star Lotulelei's path has been, he could've floundered around and foiled a great chance like Fili but he didn't. And yeah, Star Lotulelei remembers Fili [1], he knows how close he was to flying off the figurative rails, "It's a real thin line," he says. "For me, it really all depends on what your motivation is."
Now, some guys who "started from the bottom" and made it might settle in and rest on their laurels but by all accounts, Star Lotulelei is a hard working and unassuming player. In the 3 years before he made it to DI football, Star Lotulelei really bulked up almost to the point of being out of shape. As a JUCO player, Star Lotulelei ballooned up to about 350 pounds and reports I've seen consider that a conservative estimate. He cut weight and by the end of his first season he was a starting defensive tackle that weighed 325 pounds and he hasn't stopped working since, saying at the end of his pro-day, "No time to rest. It's the most important time of my career" [2].