The Eagles have a potentially gaping hole at wide receiver. Jeremy Maclin and Riley Cooper both have expiring contracts and Jason Avant is going to carry a cap hit of nearly four million dollars (3.96 million according to Eagles Cap), leaving three of the Eagles top four wide receivers with an uncertain future with the team. The Eagles have expressed interest keeping both Jeremy Maclin and Riley Cooper and both have said they would like to come back, but can the Eagles afford to pay both and who should they bring back? Does Jason Avant's production merit his return? And if the Eagles were to opt to look towards the draft for options, could a rookie replace the production of the vacating players?
Jeremy Maclin and Riley Cooper:
One of the biggest debates among Eagles fans these days is who the Eagles should sign, Jeremy Maclin or Riley Cooper? Howie Roseman has said signing one doesn't preclude the signing of the other but it could definitely be one or the other and here's why: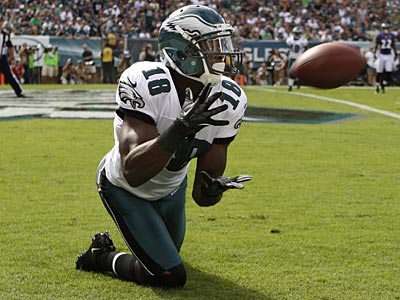 There are three primary wide receiver spots, the X, the Z and the Y. The X and the Z spots are primarily perimeter spots and the Y receiver is the slot guy. This past season, DeSean Jackson (Z) played 1010 snaps, Riley Cooper (X) played 1002 snaps and Jason Avant (Y) played 807 snaps. The next closest receiver, Jeff Maehl, played 129 snaps. This says to me that, barring injury, there aren't many snaps to disperse amongst the back-ups, there's 3 primary guys who are going to get a vast majority of snaps.
So why can't Riley Cooper, DeSean Jackson and Jeremy Maclin be those three primary guys? DeSean is the Z receiver and he is not going to be usurped from that spot, when he's playing hard he's a game changing force on the outside who wins with his elite combination of speed, agility, route running and ball tracking. When Jeremy Maclin played, he was the X receiver and this past season, the best of Cooper's career, Cooper was also the X receiver. Jeremy Maclin and Riley Cooper play the same wide receiver spot. Could either make the transition to playing the Y spot?
| | | |
| --- | --- | --- |
| | Slot Routes | Slot Route % |
| Maclin ('10-'12) | 365 | 21.3% |
| Cooper ('10-'13) | 143 | 11.8% |
Neither has played extensively inside but Maclin is the more experienced slot man of the two. In three seasons Jeremy Maclin saw 78 targets for 61 receptions, 682 yards, and 2 TDs in the slot. In four seasons, Riley Cooper saw 23 targets for 16 receptions, 280 yards, and 5 TDs in the slow. Both have shown they can produce from the slot but it's a projection for both. I think Maclin is better equip for slot play considering he's less of a strider and has better quickness to get open in tight areas but Riley Cooper is tough and physical and could potentially body up some of the smaller nickel corners in the NFL.
If Chip Kelly makes the judgment that Maclin or Cooper can be moved, both could be re-signed but if he decides they're better off pursuing another option, it'll be one or the other. And the primary slot receiver (Avant) only saw 62 targets this season, with Maclin and Cooper (to an extent) being proven playmakers on the outside they could very well price themselves out of a slot receiver spot.
For the sake of this next part, lets pretend it's one or the other.
Jeremy Maclin in 4 seasons: 423 targets, 257 receptions, 60.7% catch rate, 3442 yards, 13.4 YPC, 16 TD, 158 first downs, 61.4% first downs, 51 20+ yard catches, 12 40+ yard catches, 4.2 YAC (in Andy's offense)
Riley Cooper in 4 seasons: 183 targets, 93 receptions, 50.8% catch rate, 1514 yards, 16.3 YPC, 13 TDs, 65 first downs, 69% first downs, 24 20+ yard catches, 8 40+ yard catches, 4.5 YAC (never averaged more than 3.8 in Andy's offense)
I think it's pretty clear who we should choose if it came down to one or the other. Jeremy Maclin obviously gets more volume stats because he was the starter but he also proved to be a much more reliable target than Riley Cooper.
Jason Avant
Nothing but respect for Jason Avant but his 2013 effort just isn't going to cut it. This season, Jason Avant had 43 catches for 468 yards on 77 targets (55% catch rate), 97 yards after the catch all season, 3 dropped passes and 2 fumbles. To put those numbers into context, he was 103rd out of 111 wide receivers in yards after the catch and 87th in catch percentage. He was 23rd out of 33 qualifying receivers in yards per route run from the slot. And his catch rate from the slot was 50%, good for 32nd out of 33 qualifying players.
It had gotten to the point that this is what rotoworld wrote of him at the end of the season:
It was another predictably yawn-worthy game in a yawn-worthy season from the Eagles' slot man. Avant, one of the slowest receivers in the NFL, caught 38 passes for 447 yards with two touchdowns as he saw his YPC drop for the third straight season.
Jason Avant, once Mr. Reliable and Mr. First Down has become unreliable in addition to being one of the least dynamic featured receivers in the NFL. And once a key cog on special teams, Avant was hardly noticeable this season in that aspect. To be frank, Avant isn't giving the Eagles much anymore.
The Eagles can save 3.25 million in cap space by cutting Avant. VERY real chance it happens.
A Rookie?
Jeremy Maclin, Jason Avant and Riley Cooper have combined for 36% of the Eagles catches since 2010 and that's with Jeremy Maclin missing an entire season. Losing even two of them would leave a decent sized hole in the Eagles receiving corps. But lets say all three slip away, can a rookie help replace the production of three veteran receivers? It would take quite an effort for any rookie receiver to match the production of a Jeremy Maclin or Riley Cooper, as a matter of fact in the last decade only 17 rookie receivers have hit 800 yards or more receiving, a mark that either Jeremy Maclin or Riley Cooper have hit each of the past four seasons.
Bill Billick gives some insight as to why rookie receivers have such a hard transition once they get to the NFL:
Wide receiver has become one of the toughest positions for rookies to adapt to in the pros. There are a lot of challenges that factor into this: eluding press coverage, getting separations on a break, running disciplined routes (both in terms of positioning and timing) and mastering the myriad sight adjustments and choice routes that are a big part of the modern pro game. Those are all very difficult aspects of the process. So is gaining the trust of your quarterback. If you're a veteran, likePeyton Manning or Aaron Rodgers, you don't want to throw to someone you hope is going to be in the right place, or someone you think is going to run the correct route. You want the receiver you know is going to make the right sight adjustment. You want the guy who will make the out-cut at exactly 7 yards — not 6 or 8 — and who'll tap his toes inside the boundary to complete the catch.
Billick also makes another interesting point:
Of the top 11 players in receiving yards last year, eight were former first-round picks and another (Vincent Jackson) went in the second. Only Wes Welker(undrafted free agent) and Brandon Marshall (fourth round) weren't high picks.
Relying on a rookie receiver is a risky gamble but add in spending valuable resources (top draft pick) on a player you won't see the return on until year two just isn't worth the risk for a team that already has functional and productive pieces at the WR spot, has other holes to fill and is trying to compete. The wiser route, in my opinion, would be to bring back either Maclin or Cooper and then draft a rookie in the middle rounds to take Jason Avant's spot, whose production is much more likely to be matched or exceeded by a rookie.