In 2010 the Eagles were fourth in the NFL in turnover differential at plus seven. Michael Vick and Kevin Kolb had a combined TD:INT ratio of 28:13 and the secondary (led by Asante Samuel) accounted for 21 interceptions while the defense 23 interceptions overall. As we all know, the 2010 Philadelphia Eagles won the division and made the playoffs. In 2011 the Eagles were second to last in turnover differential at negative 14. Michael Vick, Vince Young and Mike Kafka threw a whopping 25 combined interceptions and the defense only had 15 interceptions. In 2012 the Eagles were tied for last in turnover differential at negative 24. Michael Vick and Nick Foles threw a combined 15 interceptions and the defense only had eight interceptions. The Eagles record has closely correlated with their turnovers, as their turnover differential got worse so did their record.
Now,  is that common sense? Absolutely. But I'm not sure that people realize just how much defensive turnovers, like interceptions, correlate with winning football games (link).
Interceptions
Correlation to Victory (reg. season): 151-42 (.782)
Correlation to Victory (postseason): 6-2 (.750)
Total Correlation: 157-44 (.781)

We've long said that interceptions are the most important single play in sports. The way they correlate to victory pretty much proves it. We call it the CHFF Interception Ladder. We need to update it. But short version: each INT decreases your chances of winning by about 20 percentage points.

This is the only indicator we track that looks only at the impact of a single play (or several of them in a game) and its Correlation to Victory is phenomenal.

Put another way: you throw INTs, you lose football games. Simple as that. You throw more interceptions than the other team, you lose nearly 80 percent of all NFL games.

We did not look at fumbles, because it seems that fumbles are random acts with a low Correlation to Victory. Interceptions are function of the quality of QB play, defense, scheme, coaching, etc. However, we should track fumbles in the future just to prove they're random (or maybe refute our own expectations).
Take for example the 2011 Philadelphia Eagles. The 2011 Philadelphia Eagles turned the ball over 38 times and 25 of those turnovers were in the opponent's territory: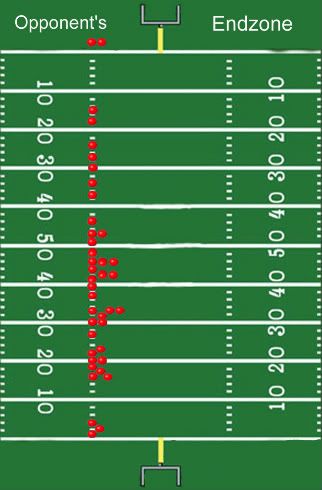 If you assume that all of those spots are field goal attempts and assume league field goal percentage average for each of the ranges they fall in, I am getting:
– 3 that were less than 30 yards (96.3%) → 8.6 points
– 7 that were 30 – 39 yards (86.8%) → 18.2 points
– 8 that were 40 – 49 yards (74.0%) → 17.7 points
If you assume that those 18 turnovers would have been only field goals for the 2011 Eagles cost the Eagles approximately 44.5 points. And that's being pretty conservative in my assumptions I think. Every takeaway takes points off of the board for the opponent, potentially shifts the momentum of the game and gives our offense more chances to score. And again, that's assuming the Eagles didn't proceed with the ball at all and ended up kicking field goals. The Eagles lost 44.5 points and that's a bare minimum estimate.
The Eagles have added a handful of secondary players this offseason who have combined for 12 interceptions in the past two seasons. That isn't much of an upgrade in the playmaking department as Nate Allen, Kurt Coleman, Nnamdi Asomugha and Dominique Rodgers-Cromartie combined for 15 interceptions the past two seasons. The need for playmakers in the back half of the defense is just as prominent as ever.