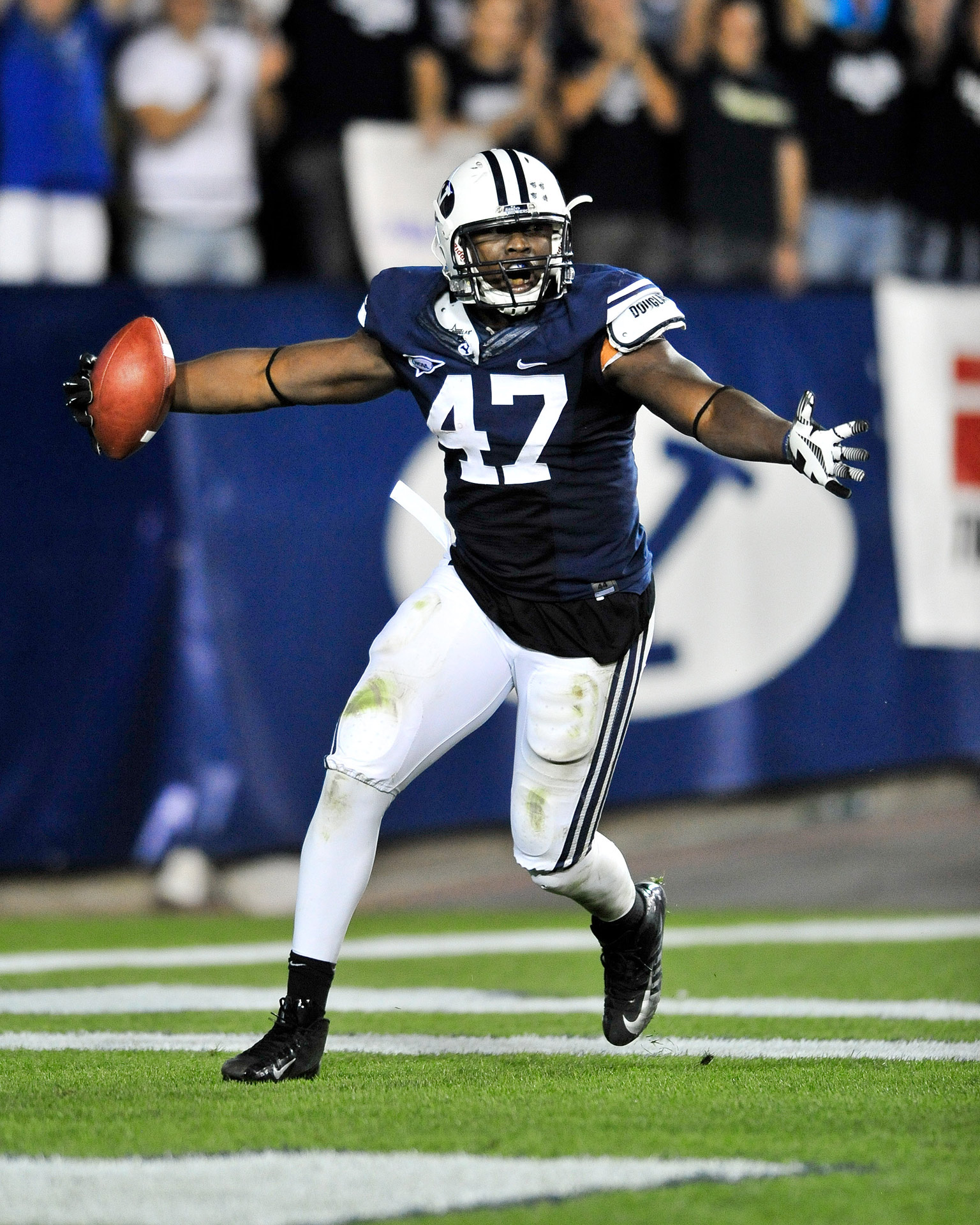 In the United States, football is king. Sixteen of the twenty most watched sporting events were football games in the first half of 2012 [1] and that was only with a few bowl games, the last week of the regular season and the NFL playoffs. The football dominance over that list only increased with the inclusion of the 2012 regular season. Superbowl XLVII between the Ravens and the 49ers was the most watched television program in the history of the United States, breaking the record it set the year before [2]. Football is the juggernaut and everything else is a sideshow, our enthusiasm for football is overflowing and the rest of the world is slowly catching on.
Since 2005 the NFL has hosted games in Mexico City, Toronto and London and the international fan base is growing rapidly because of it [3].
But the figures are promising. According to the NFL, there is a fan base of 11 million in the UK, which represents a 32% increase in the last two years. More people are playing the game at amateur level too.

Television numbers are also on the rise, with Sunday games showing a 154% increase in viewers, while the amount of people watching the showpiece Super Bowl has gone up by 74% since 2006.
One of the side effects of the ever-expanding NFL is that top level athletes are coming out of the woodwork from all around the world to try their hand at NFL football. In last year's draft there were five foreign born players drafted (the most ever): Tyrone Crawford, Phillip Blake, Christo Bilukidi, Jack Crawford and Markus Kuhn. This year, there might be just as many foreign born players drafted in the first round alone. Bjoern Werner, Margus Hunt, Jesse Williams, Menalik Watson and Ezekiel Ansah are all potential first round picks. And in the later rounds the NFL can choose between Tom Wort of England and Lawrence Okoye who also hails from the land of crumpets and tea (that's right, right?).
But the most tantalizing raw foreign talent is surely the aforementioned Ezekiel Ansah. Among players at the combine, Ansah tied William Gholston for most passes batted at the line. He was third in percentage of tackles for two yards or less. And amongst the top pass rushing prospects Ezekiel Ansah had the most sacks and pressures per snap. In just his third season playing any sort of football, Ansah had 49% of his 62 tackles came within 2 yards of the line of scrimmage. All of those numbers are courtesy of @JPStats on twitter.
This guy is so new to football but he's already creating an impact on the field and he took over the senior bowl where he won the "Most Outstanding Defensive Player" award, seven tackles (six solo), 1.5 sacks (for 13 yards), 3.5 tackles for loss (for 24 yards), a pass breakup, and a forced fumble. Ezekiel Ansah is raw, that is undeniable (depending on what you mean). But for someone so raw he displays a sense of awareness well beyond his years.
http://www.youtube.com/watch?v=AF1SxnL9gOE
| | | | | | | |
| --- | --- | --- | --- | --- | --- | --- |
| Name | Height | Weight | Arm Length | 10 Yd. Split | Vert. Jump | 3 Cone Drill |
| Ezekiel Ansah | 6'5" | 271 | 35 1/8" | 1.62 | 34.5" | 7.11 |
| Jason Pierre-Paul | 6'5" | 270 | 34 ¾" | 1.65 | 30.5 | 7.18 |
| Aldon Smith | 6'4" | 263 | 35 3/8" | 1.66 | 34" | 7.19 |
| Chandler Jones | 6'5" | 266 | 35 ½" | 1.66 | 35" | 7.07 |
| Quinton Coples | 6'5" | 284 | 33 ¼" | 1.63 | 31.5" | 7.57 |
| JJ Watt | 6'5" | 290 | 34" | 1.64 | 37" | 6.88 |
| Carlos Dunlap | 6'5" | 278 | 34 5/8" | 1.61 | 31.5 | 7.21 |
At BYU they played a 3-4 defense and Ansah did a lot of moving around but he wasn't used much as an attacker. He was utilized primarily as a base end in their defense but he moved around quite a bit, dropping into coverage at times, playing some linebacker and even playing some nose tackle in pass rushing situations. Was that a blatant misuse of his talents? Perhaps, it's not often that a college coach wouldn't just unleash a world class athlete on the edge but Ansah was talented enough to make it work and versatility is now one of his strong-suits.
In the case of the Eagles, Ansah would provide a lot of flexibility in the front seven on defense. Billy Davis appears prepared to run a hybrid, under-front scheme and in that scheme Ansah could play strong-side linebacker, predator, the five technique or he could play with his hand in the dirt in 4-3 sets as a traditional DE.
Winning Initial Contact
At 6'5″ and 270 pounds Ansah has fantastic size for an edge player, he's got the bulk and core strength you want. And as you saw in the "Sports Science" video before, Ansah's acceleration is fantastic. Finally, when you combine this with his 35 1/8″ arms and nearly 6'9″ wingspan you have a player who has all the tools to win initial contact. His combination of strength, acceleration and length allow him to initiate and control first contact.
You can watch any video and you'll note that when Ezekiel Ansah gets upfield he shocks blockers on contact. On this particular play watch how the Hawaii offensive lineman gets rocked backwards on contact. And once he learns to play lower this trait will only become more prominent. He's much like Aldon Smith in this regard, he'll be a terror off the edge against tackles that can't match his length.
Batted Passes
Batted passes have always been sort of tossed aside in favor of sacks, "So-and-so had more batted passes? So what, this guy had more sacks". But JJ Watt's play has highlighted how much batted passes matter. Last season JJ Watt batted 16 passes and 5 of those resulted in interceptions for the Texans. Last season Ezekiel Ansah tipped 9 passes in 13 games and tipped 5 passes in his last 4 games. And at 6'5″ with his nearly 6'9″ wingspan and a standing reach that nears 9′ there is nothing to suggest Ezekiel Ansah can't become a Jason Pierre-Paul or JJ Watt type pass batting force at the next level. You can turn on any Ziggy Ansah tape you want and you'll find that he consistently gets his hands in the air to obstruct passing lanes. He's got a very good feel for it.
Run Defense
Ziggy Ansah is a good run defender at this stage in his career and it's something I think you can rely on him for at the next level. He does a very good job of extending his long arms and locking out blockers, keeping him free and giving him added space to locate the ball carrier. And with his combination of length and core strength he presents potential as a stack and shed run defender at the next level, especially if you decide to play him as a 4-3 DE. And if your heart so desires it, I don't doubt Ansah could put on about 20 pounds and be a fine 3-4 DE.
If you're looking for pass rush potential from Ansah, don't watch that video. San Diego State is a pure ground-and-pound offense that completed a grand total of 182 passes all season. In this video it doesn't appear that Ansah was really let loose but if you're looking for examples for his potential as a run defender, that's the video you want to watch.
Edge Rusher
As I mentioned earlier, Ansah didn't really get let loose off the edge at BYU. He played a lot of 3-4 DE and situational NT. The game he got the most consistent snaps as an edge rusher was the Senior Bowl and he dominated to the tune of a Most Outstanding Defensive Player" award, seven tackles (six solo), 1.5 sacks (for 13 yards), 3.5 tackles for loss (for 24 yards), a pass breakup, and a forced fumble.
He doesn't have a lot of tape as a pure pass rusher but he definitely has all the tools to develop into one. He was 10th in the 3 cone drill at the NFL combine which would suggest he's got the flexibility to effectively bend and run the arc around the edge.
That's the kind of player he is right now as an edge rusher, he's a power guy. There isn't much variety to his pass rush at the moment but once again, he's got the tools. If he can learn to play lower his bull rush will be extremely good, so good that he could base his entire repertoire around it and use it to set up other moves. He's got so much potential as an edge rusher and he's not even scratching the surface.
Hustle
This is one of the first things I noticed when I started making it a point to watch Ansah during the season: he tries really hard. Watch any game of his and it won't take long for Ansah to show up in the frame, he's always relentless in pursuit. That's one of the lessons that I learned from Jason Pierre-Paul. Out of college I didn't think much of Jason Pierre-Paul at all, I thought he was an incredibly raw and inexperienced prospect who would never amount to much. But I failed to take into account future growth and development. So now when I'm watching guys who are athletic and raw, I make it a point to watch how hard they play because if they've got all the physical tools and you can count on full effort, I'll bet the house on those guys.
And just a quick aside, it's fun to watch Ansah play in pursuit because it's not often you find a guy who is pushing 270 pounds that has sideline to sideline range. Very quick and very fluid. Extremely impressive.
Potential Problems
How old is Ezekiel Ansah? His passport says he was born in 1989 so that would make him 24 in his rookie season. That isn't ideal to begin with but he immigrated from Ghana and there are rumblings out of BYU that some things were fudged in regards to Ansah and some teams wonder about how old he really is [3]. All of that is just conjecture but it's something that should be given at least some thought.
He's raw. He doesn't have many bad habits but he doesn't have many good ones either. If he's going to develop into a force in the NFL he'll need to seriously develop his hand usage and his pass rush repertoire. He'll need to learn how to play lower too. If he can't learn those things, he could be less effective than other players in this draft.
Once again, Ansah immigrated from Ghana via the Mormon church. He only recently got into football after failing to secure a basketball scholarship, basketball being the sport he claims was his first love. And Ezekiel Ansah referred to himself as a "delicate flower" as he started playing football. He's done a good job developing at BYU thus far but playing in a big market like New York or Philadelphia is vastly different, the pressure is ramped up. Can this "delicate flower" continue to develop under the intense pressure of being a high draft pick or will he just fade away ala Vernon Gholston who, for as talented as he was, wilted under the pressure and didn't love the game.