Last year I did a little series of posts that were based on the premise of drafting a certain player. I'd highlight a particular player's skills and then explain how I thought they'd fit in on the Eagles. You can see them here: Melvin Ingram, Mark Barron, Chandler Jones (don't click that link unless you've got a lot of patience), Quinton Coples, Luke Kuechly, Michael Brockers, Dontari Poe and Ryan Tannehill. I'm pretty happy with the way those turned out so I'm going to do some again this year leading up to the draft starting with my man-crush, Star Lotulelei.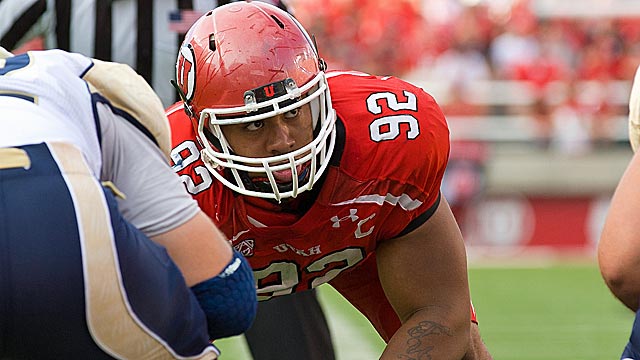 In 2007 the University of Oregon was sniffing around the state of Utah looking for the next Haloti Ngata. They ended up recruiting a big Samoan defensive tackle from Cottonwood High School, a guy who was touted as the best DT prospect from the state of Utah since Haloti Ngata. They weren't recruiting Star Lotulelei, they were recruiting, Simi Fili. Coming out of high school, Star Lotulelei was a 240 pound, 3 star recruit who had committed to BYU but didn't qualify academically. He ended up moving furniture, not in college or playing football. Nothing Star Lotulelei has today was gifted to him, he's a man from humble beginnings and he's earned everything he's about to get; born in Tonga, failing to qualify for college and playing second fiddle to Simi Fili in high school.
It's kind of funny how these things work out, two high school players whose paths started similarly but ended wildly different. Star's counterpart, Fili, also failed to qualify for college out of high school and he never made it to Oregon. As a matter of fact, the best thing since Haloti Ngata never even made it to division one football. Fili, was billed as the next Haloti Ngata coming out of high school but it was the 3 star, 240 pound DT who ended up blossoming into the Ngata-type player. Simi Fili now reportedly competes as a competitive lifter after toiling in JUCO for a few seasons. I think it just goes to prove how difficult Star Lotulelei's path has been, he could've floundered around and foiled a great chance like Fili but he didn't. And yeah, Star Lotulelei remembers Fili [1], he knows how close he was to flying off the figurative rails, "It's a real thin line," he says. "For me, it really all depends on what your motivation is."
Now, some guys who "started from the bottom" and made it might settle in and rest on their laurels but by all accounts, Star Lotulelei is a hard working and unassuming player. In the 3 years before he made it to DI football, Star Lotulelei really bulked up almost to the point of being out of shape. As a JUCO player, Star Lotulelei ballooned up to about 350 pounds and reports I've seen consider that a conservative estimate. He cut weight and by the end of his first season he was a starting defensive tackle that weighed 325 pounds and he hasn't stopped working since, saying at the end of his pro-day, "No time to rest. It's the most important time of my career" [2].
And why would he start resting now? As a full-time student, husband, father of two and nose tackle who played 91% of snaps last season, Star Lotulelei is pretty accustomed to hard work. Did you catch that last part? Because it's pretty amazing. As a defensive tackle, Star Lotulelei played 91.2% of snaps.
@JoshNorris Floyd 66.4%, Richardson 72.3%, Lotulelei 91.2%

— John Pollard (@JPSTATS) March 4, 2013
In the NFL, Gerald McCoy led all defensive tackles in snaps this past season and he only played 87.3% of the time. And besides McCoy, the only two other defensive tackles who played over 900 snaps were Ndamukong Suh and Vince Wilfork. Last year Cullen Jenkins led the Eagles in snaps from the DT spot and he only played 59% of snaps.
Watching Star Lotulelei's game tape is to see the high-side version of Warren Sapp. Completely dominant when he's on.

— SI_DougFarrar (@SI_DougFarrar) March 20, 2013
Perhaps the reason behind Star Lotulelei having troubles with inconsistent effort (i.e. not being "on") is he was playing 91% of snaps. In the NFL, he'll be rotated off the field more and he won't be worn down quite as much.
But even despite not always being the most disruptive pass rusher (because of being worn down), he was always a force in the running game. Chaz Walker, a starting linebacker for Utah said, "He's a very unselfish guy. He'll plug up a hole and take two [blockers] with him so we can make plays. … As many tackles as I have, Star should be credited with those, too" [3].
Star Lotulelei's presence in the run game alone makes him a valuable prospect but it's his fantastic combination of quickness and power rushing the passer along with his versatility that really drives his value up.
Here's what Star's defensive coordinator, Kalani Sitake, said about him:
If you watch the USC game, he wanted to match up with C Khaled Holmes and focus on him one-on-one. There are times when you feel like you are comfortable with Star lining up at zero (technique, lined up directly over the center) and you put him there. There is tons of film of him playing at zero up the nose and there's a lot of film of him playing at the DE position.

Will he make a lot of plays at end? Probably not. His job was to collapse the pocket and take blocks to help the other guys get open.

It's hard for a center who's going to block a guy so explosive to snap the ball and block at the same time. He's just so quick off the ball that when it's snapped…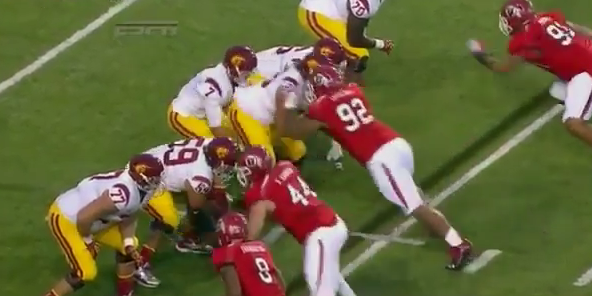 He made a particularly salient point in that article when he said there was a lot of film of Star at DE (5-tech) but it wasn't his job to make plays. He said that as a 5-technique his job was to "collapse the pocket and take blocks to help the other guys get open" which is exactly what Star Lotulelei would be doing as a 3-4 DE. Star Lotulelei is being type-cast as a NT because of his strength in the run game but a lot of people are missing that Star would be a perfectly capable 3-4 DE with the length, strength and quickness to consistently challenge offensive linemen from the five technique spot, whether he's attacking across from an offensive tackle or crossing or slanting inside against a guard.
Daniel Jeremiah, NFL Network draft analyst and former NFL scout for the Ravens and Eagles, is not one of the people who are missing Star's potential as a 3-4 DE. Jeremiah called Star Lotulelei an "ideal 5 technique" [4]. Bucky Brooks is another former NFL scout who acknowledges Star's versatility, comparing him to BJ Raji a versatile lineman in his own right.
If you want to strengthen the trenches, it is my opinion that Star Lotulelei is the man to get in this draft. When you watch the video clips below notice how coordinated he is, he's never overextended or out of control. He reestablishes the trenches on almost every play, knocking guys backwards with his ability to snap his hips into contact, popping out of his stance and with his violent hands. He does a good job of extending his arms and using his hands to keep blockers from getting to his frame. And he flashes pass rush moves and quickness. He's the sort of player who can control people in the run game and get you to third down and then on third down he can push the pocket and force the QB off his spot. Star Lotulelei's combination of power and quickness is unmatched in this draft class and it is my opinion that he's going to be a force in the trenches at the next level.
But enough words, lets take a look at some video evidence.
Star Lotulelei: The Run Stopper
You'll notice that Star Lotulelei is playing with a perfect stance. His back is flat, shoulders are square to the LOS and he is coiled down in his stance, ready to pounce whenever the ball is snapped. On this particular play you'll see what can happen when you try and block Star Lotulelei one on one. He fires off the line low and powerfully, knocking his blocker backwards and forcing the runner to hesitate.
Once again you see him flat-backed and coiled up before he fires into his blocker. Once again he knocks the blocker backwards but this team his penetration trips the pulling guard and the leading fullback. On this play Star takes out 2 blockers and slows a third.
Moves as the ball is snapped to a spot close to a 5-tech and he stretches the play wide.
Controls the double team.
Again taking on a double team.
Once again you see him knock his blocker backwards and trip the pulling guard.
Unfair. The guy just tosses Khaled Holmes aside.
Controls his blocker, moves laterally down the line, takes on the fullback like it's nothing and then makes the tackle.
Again, watch him lock out, disengage, play the piano keys and make the hit on the sideline. He's not just a two-gapping NT, he's got athleticism.
The Pass Rusher
On this play you'll notice the quickness and lateral agility that Star Lotulelei has. He crosses the face of the center, attacks the right shoulder and collapses the pocket.
Showing some closing speed, for some reason UW decides not to block him and Star buries their QB.
On this play you can can see the power and leg-drive that Star has, he powers his blocker all the way into Keith Price's lap.
Double teamed? Not a problem.
Both players are expecting a bullrush and Star uses their overextension against them with a little bull and jerk move, slapping the blocker aside with his powerful arm. And then he showcases some good speed in pursuit.
Two QB hits in a row.
He reestablishes the line of scrimmage in this instance, showcasing great quickness and making it so that Keith Price has no pocket to step up into.
Swim move.
He fires off the line so quickly that he disrupts the QB exchange and he recovers the fumble he forced.
Just watch this whole video:
In this game you'll see flashes of Ndakumong Suh the way Star Lotulelei just tosses Khaled Holmes around like he's some little child.
How he would fit with the Eagles:
As it stands today the Eagles are terribly shorthanded along the defensive line. Two starters you can pencil in are Fletcher Cox and Isaac Sopoaga but there is a gaping hole next to them. Cedric Thornton, Vinny Curry and Clifton Geathers are all likely depth options. He would step in right away as a starting defensive end.
@SirJon81 that's all I played in college

— fletcher cox (@fcoxx_91) March 3, 2013
Given that information (and because it's a natural fit) it would make sense that Fletcher Cox lines up on the right side of the line as a 3-tech. Isaac Sopoaga is obviously the current starter at NT whether that's a 0 or 1 technique spot. So that leaves the 5-tech spot on the left side of the line open and unless we add someone, Star would be the immediate starter. That would give us a line of:
Fletcher Cox – Isaac Sopoaga – Star Lotulelei
That right there is absolutely filthy. Potentially the best base 3-4 DL in the league right off the bat. And when we go into the nickel package we would take Isaac "Spooky" Sopoaga off the field and slide Star inside giving us an interior duo of Fletcher Cox and Star Lotulelei.
Long term we could potentially keep Lotulelei as a 3-4 DE or we could move him inside, he's proven capable of holding more weight in the past. One NFL scout estimated that Star played 2011 at 360 pounds. He gives us some flexibility moving forward because he's capable of playing any spot across a 3 man front.