One of the biggest questions moving forward for the Eagles is whether or not Nick Foles is the answer. Can Nick Foles lead the Eagles to the playoffs? Can Nick Foles win us a championship? Well, I'm not going to definitively answer those questions because nobody knows the answer. Instead, I'm going to provide some information that will allow us to better frame the debate. I'll start by dropping a bunch of statistics and move from there and I'll eventually get to why I think we should #RollWithFoles and why I think he deserves a shot to prove that he can become good enough.
First of all, we have to look at Nick Foles. Nick Foles' rookie season looked like this: 1,699 yards, 60.8% completion rate, 6.41 YPA, 6 TDs, 5 INTs, 42 rushing yards and 1 rushing TD. He threw a TD on 2.3% of his throws and an INT on 1.9% of his throws. He averaged 242 passing yards per game. According to ProFootballFocus, 71.8% of Foles' throws were considered "accurate".
Now that we've gotten that chunk of numbers out of the way, it's time for another one:
Rookie Passers: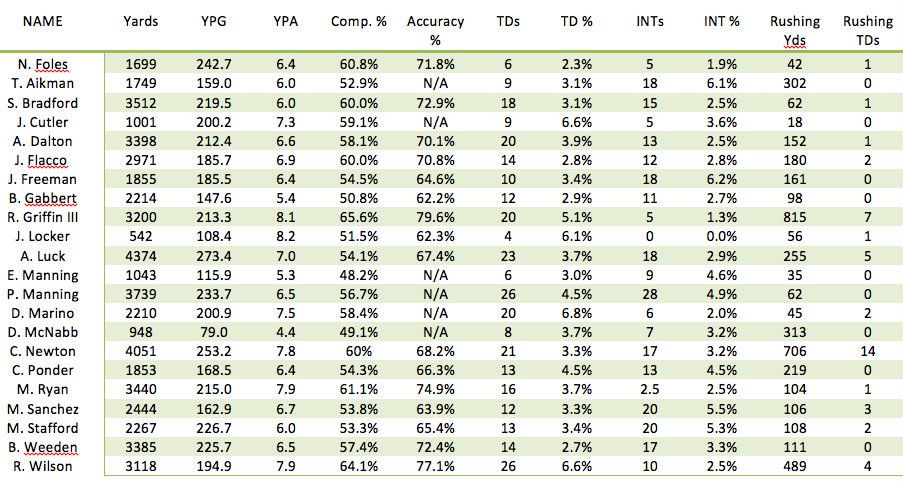 He completed 60% of his passes, something that Andrew Luck, Matthew Stafford, Peyton Manning and Andy Dalton couldn't do. Heck, Donovan McNabb and Eli Manning didn't even complete 50% of their passes in their rookie season. Nick Foles averaged 242 yards per game, a mark that was only matched by Cam Newton and Andrew Luck in this sample. Only RGIII, Sam Bradford, Russell Wilson and Brandon Weeden had a higher accuracy rate in their rookie seasons. And his 1.9% INT rate was only bested by Robert Griffin III and Jake Locker. The one spot where Nick Foles doesn't measure up is his TD% where he had the lowest percentage out of any rookie QB that was sampled.
What do those numbers mean moving forward? Not much. I just thought it was important to highlight Nick Foles' performance in comparison to other rookie passers. People seem to hold Nick Foles to an incredibly high standard, which is fine moving forward, but you have to realize that rookie passers all have their warts.
The real challenge for Nick Foles is going to be improving on his rookie season. Yes, he showed potential but potential just means you haven't done anything yet. It's all about how he's going to grow. As you can see, Matthew Stafford and Mark Sanchez had incredibly similar rookie seasons, Stafford has obviously progressed better. Development is key.
The Eagles
Under Michael Vick, the Eagles offense averaged 15.5 points per game and he was sacked 7.4% of the time. Under Nick Foles, the Eagles offense averaged 20 points per game and he was sacked 7% of the time. The point differential under Michael Vick was -85 while it was -82 under Nick Foles. But keep in mind, Nick Foles only took over after Juan Castillo was fired and Todd Bowles coordinated what would become a historically bad defense.
I think it's important to note that the offense as a whole played better when Nick Foles took over. I think that bodes well for him, he elevated a really crappy offense to a less crappy offense even though he didn't really get to play with LeSean McCoy and DeSean Jackson. Impressive. 
And the play of Jeremy Maclin, Jason Avant and Riley Cooper improved under Nick Foles. I've long said that Vick's street-ball, scattershot QB style didn't fit a WR core that was built for Kevin Kolb, who was supposed to be an accurate pocket passer. And sure enough, play elevated. In 7 games, Maclin averaged 5.2 catches (4 under Vick), 68.4 yards (47.2 under Vick) per game and he had 3 TD catches (4 in 9 games under Vick). Jason Avant put up his only 100+ yard game of the season with Foles and Riley Cooper enjoyed the most prosperous stretch of his career under Nick Foles.
And I think it's especially important to note how much better the offensive line looked with Foles and that it returned right back to it's sieve-like state when the Eagles played the Giants. Foles made several noticeable checks and adjustments against the blitz, making us less susceptible to them (something Vick can't do). And his consistent footwork in the pocket and ability to actually control the pocket, climb the pocket and on occasion get rid of the freakin' ball helps a little bit… Michael Vick was "under pressure" 41.2% of his snaps while Nick Foles was "under pressure" on 37% of his snaps and yet Darwin Walker, former NFL DT, said the OL looked like pro-bowlers compared to what Michael Vick was playing with. Nick Foles took fewer sacks, threw 5 fewer interceptions when pressured and had the 11th highest accuracy percentage in the NFL when under pressure. Nick Foles made the offensive line look better than it was, Michael Vick made it look worse than it was.
Nick Foles and Michael Vick played with the same supporting cast and Nick Foles did better; fewer negative plays and more points on the board even though Foles didn't have DeSean Jackson or LeSean McCoy for a majority of his 7 games. Again, I think this bodes well for him. Sometimes you see players put up stats without really elevating the level of play around them (Philip Rivers, Andy Dalton, Kevin Kolb, Matthew Stafford) but Nick Foles doesn't appear to be one of those guys, the offense as a whole played better with him at the reigns.
The Playoffs
How good of a QB do you need to make the playoffs? The talking points all suggest you need a good passer to make the playoffs but after watching the playoffs last weekend, I couldn't help but notice that there weren't very many good QBs playing.
Andy Dalton single-handily lost the Bengals their playoff game by missing two wide open TD passes to AJ Green, throwing key interceptions and missing on a 4th down throw late in the game that should've been a first down. I watched Matt Schaub do absolutely nothing in the passing game, look anxious in the pocket and rely on his running game to eat up yards. I watched Christian Ponder sitting on the sidelines after quarterbacking his team to the playoffs. And then I watched Joe Flacco go hot/cold all game before dropping a few dimes to Boldin and ultimately winning the game. Then, I watched a hobbled RGIII battle it out with Russell Wilson, neither of whom looked particularly impressive on the day. The only elite QB I watched last weekend? Aaron Rodgers.
I mean, for goodness' sake, MARK FREAKIN' SANCHEZ quarterbacked the Jets to TWO, count 'em, TWO AFC Championship Games.
What did I learn? Having an elite QB is sure nice if you can get one but they're so rare and hard to find that teams make the playoffs and occasionally win championships with QBs who are less than elite *GASP* (see: Ben Roethlisberger as a recent example of a good, not elite QB winning it all). Teams in the playoffs don't have great QBs, they find QBs who are good enough to win games and they build a roster around them. Ultimately, unless you happen into a #1 pick or trade a huge dowry for the QB of your choice, front offices have to figure out how to do more with less.
Is Foles Good Enough?
I would certainly say that Nick Foles has the potential to be good enough. A Tom Brady, Drew Brees or Joe Montana type rise seems extremely unlikely but becoming a Andy Dalton or Matt Schaub level passer? That's within striking distance for Foles, in my opinion. We saw this season that he's capable of being accurate and spreading the ball around. Foles showed better decision making skills than most rookies, he didn't turn the ball over often. And we saw him command the pocket.
During the season we consistently saw Nick Foles show good eye level and the ability to avoid pressure without running around like a wild goose.
We saw Nick Foles get rid of the ball quickly against the blitz
We saw a little bit of everything from Nick Foles this season. We saw impressive pocket presence. We saw a good enough arm. We saw a QB who threw with anticipation. We saw a QB who had us in position to potentially win games in 3 games, two against division rivals and he won a game on a last second play against a team in the playoff hunt. We saw toughness, poise and moxy. We saw a quick release and accuracy that was a significant improvement of Michael Vick's. We saw a guy, who at least in my opinion, should develop into at least a good game manager if he continues to develop properly. So yes, if Andy Dalton, Matt Schaub and Christian Ponder are playoff QBs, I think it's safe to say that Nick Foles could be good enough if his development continues on it's current trajectory.
What do we do?
I don't think we hand him the keys and say, "See the Benz? It's all yours pal". But, he's at least got to be given the chance to sit in the drivers seat, even if it's a student driving car and the passenger controls the brakes. This QB class is incredibly weak and the drop off in talent from the top to the middle isn't very steep. Finding a franchise QB in this draft is going to be tough, you're going to have to develop a guy otherwise it's going to be like trying to squeeze water out of a rock, nobody is ready to go right out of the box. And I do think that Nick Foles is farther along in his development than any QB in this class, why hit the reset button? My vote is to "Roll with Foles" for a season and see what happens. I'd love to see what we've really got in Foles, I'd hate to pull the plug on him already. After next season, if his development stalls, the Eagles can then make a move for a QB at the top of the draft in a much stronger draft class. But right now, I think Foles has the potential to be good enough to give us a chance and I would rather build a roster around him than sink immense amounts of resources into the QB spot, especially in this offseason where the QB market is bone dry *watches tumbleweed roll by*.