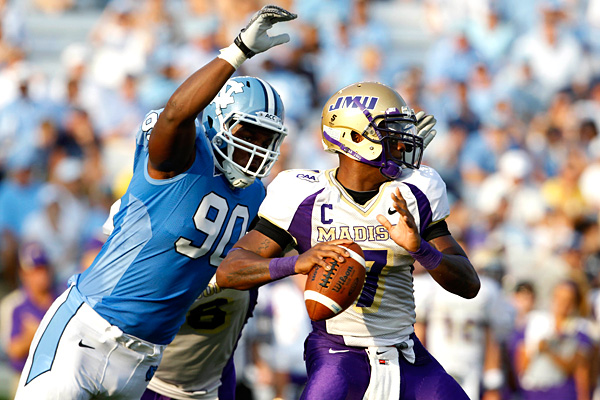 So you drafted Quinton Coples. What are you getting? That is a really good question. Are you getting a spoiled, big time talent with work ethic issues? Or are you getting a guy who is a victim of bad circumstances at North Carolina? Are you getting a defensive end or a defensive tackle? Who knows. But what you can know is that you're getting a very talented player with a bunch of potential and positional versatility.
More after the jump…
Athleticism:
First thing is first: If someone compares him to Julius Peppers, Mario Williams or Justin Tuck, stop reading. Those guys are freaks. He might be used in a similar fashion as Justin Tuck but he doesn't compare athletically.
| | | | |
| --- | --- | --- | --- |
| Coples | Peppers | Williams | Tuck |
| 6'6" | 6'6" | 6'7" | 6'5" |
| 284 | 282 | 295 | 265 |
| 33 ¼" arms | 33 ¾" arms | 33 7/8" arms | 33" arms |
| 4.78 | 4.69 | 4.7 | 4.71 |
Up to this point they're pretty similar right? Well just look at the difference in suddenness and explosiveness.
| | | | |
| --- | --- | --- | --- |
| 31.5" Vert | 36" Vert | 40" Vert | 37.5" Vert |
| 9'01" Broad | 10'06" Broad | 10' Broad | 9'10" Broad |
| 7.57 3 Cone | ? | 7.21 3 Cone | 7.33 3 Cone |
In terms of size, Coples does compare but in terms of athletic ability, he does not. Those guys are rare big defensive ends with the quickness and explosiveness to beat offensive tackles to the corner while also having the flexibility to turn it instead of being ridden past the pocket.
Coples is not that sort of guy. Athletically he is closer to Matt Shaugnessy.
| | | |
| --- | --- | --- |
| Category | Coples | Shaugnessy |
| Height | 6'6" | 6'5" |
| Weight | 284 | 266 |
| Arm Length | 33 ¼" | 33 7/8" |
| 40 Yd Dash | 4.78 | 4.86 |
| 10 Yd Split | 1.63 | 1.69 |
| Vertical Jump | 31.5" | 30.5" |
| Broad Jump | 9'01" | 9'04" |
| 3 Cone Drill | 7.57 | 7.68 |
He's not overly explosive off the snap but he flashes a quick first step when he is actually trying and when he stays low he can overpower offensive tackles in the ACC and just walk them backwards. He's got power and quickness when he decides to use it. In 2010 he showed the ability to consistently beat guards as a pass rusher, he was too long and too quick for guards to block.
When he tries (sense a trend?), Coples flashes powerful hands and if you give him an open path to the QB he shows good closing speed and he really makes his presence felt as a hitter when he gets to the QB. Do you remember how Suh would try to take of a QBs head when he got to him? Coples isn't quite as bad as Suh but it's similar. He could become a real enforcer at defensive end with his hitting ability.
He's got a good amount of core strength and he consistently shows the ability to set the edge against the run as a defensive end. The problem with him is that he doesn't consistently show the "want to" to get off blocks and make the play. The ability to do so is there, no doubt about that. That changes as a defensive tackle, he isn't strong enough and he plays too lackadaisical to be a decent run defender as a defensive tackle; he doesn't have the ability to hold up against double teams on the inside.
But there are concerns about his suddenness and ability to change directions quickly. He's not the most agile of guys despite being pretty flexible and because of this he loses speed when running the arc and trying to turn the corner on offensive tackles. This causes him to get pushed past the pocket more often than you would like and it affords offensive tackles more time to recover when he beats them off the snap.
Work Ethic:
I mentioned numerous times about how Coples does things well when he tries. So the question is this: Is Coples legitimately a lazy player or was he just in a horrible situation at North Carolina?
Let me give you a sense of how screwed up things were at North Carolina:
-In 2010 12 players were suspended at one point or another for "violating school and NCAA rules". Quinton Coples was investigated simply for attending a draft party for former teammates Marvin Austin and Robert Quinn.
-The guy who recruited Coples, Butch Davis, was shown the door and North Carolina hired Everett Withers in the interim. Oh and the Tar Heel's starting QB was as guy named Bryn Renner who's dad coached Butch Davis' son.
-Donte Paige-Moss gave us a little peak into how messed up the North Carolina locker room was in a twitter rant:
Worst xmas eva cant wait till.this horrible bowl in this horrible city wit sum of da mos horrible coaches r ova

Sum.of.yall mofos jus haten cuz yall.gotta pay.fo.skool

unc. Fans r.the.worse.we.win its all.good. Have a bad game we suck thats.a.reason #imout #nosupport
So, was Coples a product of a bad situation? Who knows. But I can say what Bill Walsh might think about situations like this thanks to Michael Lombardi.
4) Watch out for players from downtrodden programs — particularly programs that have just fired a coach — being unfairly downgraded. In Walsh's mind, players from a program that has just fired its coach pay a price in draft evaluation. Coaches rarely admit the real reason for their termination — bad coaching — instead placing the blame on bad players. These side effects of a losing culture can taint a scout's visit to a particular school. Walsh insisted that all the college prospects in this situation had to be examined closely.
Coples has talent but he was in a bad situation. If he gets a coach that pushes him to reach his potential he could be a very nice draft value. But scouts are really down on him because of his lack of effort.
National Football Post talked with 2 NFL evaluators on Sunday.
 "You can put together a highlight tape that makes him look like the first pick in the draft. But all the plays in between, he gets pushed around."

"At times you don't even know he's in the game," one general manager said. "He is a lethargic player who goes through the paces."
And ProFootballWeekly has been tracking what scouts say about Coples for a while now.
 "Coples is one of the biggest underachievers I have seen in a long time. He's got so much talent. He's just so disappointing to watch. He shut it down late in the year. I wouldn't touch him in the first (round)."

"(North Carolina DL Quinton) Coples can be as good as he wants to be. I just don't know how much he wants it. He leaves more production on the field than I would like to see from a top-10 pick, but that's where he is going. He's quick, strong, athletic — he plays with great balance in his feet. He's got everything you want. He just doesn't bring it hard all the time — you (commonly) see that with defensive linemen."

"(North Carolina DE) Quinton Coples tanked it (this year). His play scares me. I don't know that we could pull the trigger. That's a tough question, man. We'd have to think about it where we're picking (in the back half of the first round)."
On The Field:
Figure him out. I can't. With the other guys I felt pretty confident that they would at least find a role, not Coples. Coples could be all-world or he could be a huge bust that never amounts to anything. He has stumped me.
Just watching those games I see a big, fluid athlete who isn't overly explosive, plays at one speed, can set the edge in the run game and is pretty clearly more comfortable on the left side of a defense and on the inside when rushing the passer.
Final Thoughts:
You know what I think Coples could be? It's something that really isn't talked about as much anymore when it comes to draft times, due to the focus on pass rushers (partly due to the proliferation of the 3-4 and the "tampa 2"), but I think he's your classic "power end" in a 4-3 if it all goes well. Think Phillip Daniels before he bulked up (think when he was with the Bears). Those guys are a bit under-valued in some respects, but their ability to control their side of the line of scrimmage often gives the DC a lot of freedom. I could see some teams utilizing him as an interior pass rusher as well similar to how the Giants use Justin Tuck and the Eagles used Darren Howard.
But the bust potential is just so high because of concerns about his work ethic, what if he tanks it in the NFL the same way he did at North Carolina? He could just be another Jamaal Anderson, a big defensive end that never lives up to the hype.
Playing for a motivator like Jim Washburn who allows his players to pin their ears back and attack could do good things for Coples, especially if Washburn utilizes him as an interior pass rusher too.