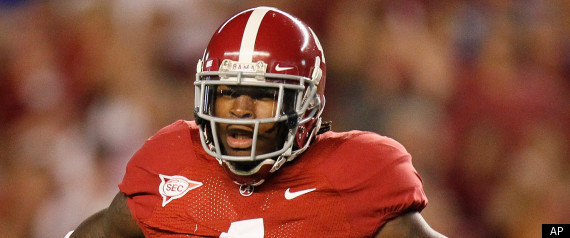 By drafting Mark Barron you just added an enforcer to the back half of your defense. There are questions regarding his durability and athleticism but he's probably the safest safety prospect in the draft. Bottom line, you get a big, hard-hitting safety who can play the run as well as anyone and be a weapon on blitzes. But perhaps the most appealing thing about Mark Barron is that he knows his role, he plays smart and he functions well as a piece of a greater whole.
More after the jump…
Now, I bet most people are wondering, "Did we really need a safety?" and the case can be made either way.
Some people are going to say that the Eagles already have 3 young safeties who need to be given a chance to prove themselves. If the Eagles keep jerking these young safeties around, they'll never reach their potential and the Eagles have just wasted at least one high draft pick on a safety if you draft Barron. Unless of course the Eagles plan on playing with three safeties, which just isn't happening.
But the other side could argue that the Eagles are ready to contend and they don't have time to wait on young safeties to develop, they need a guy you can plug and play right away. And those young strong safeties haven't exactly shown much, Jarrett and Coleman missed a combined 14 tackles and the three players (Coleman, Page, Jarrett) who made appearances at strong safety missed a combined 21 tackles last year. They played a major role in the Eagles being 29th in the NFL at allowing open field yardage and allowing 4.91 yards per carry when opposing teams ran to the right side (the defenses' left side).
Basically it boils down to whether or not you have faith in Jaiquawn Jarrett to develop because everyone and their mother knows Kurt Coleman is best served as a #3 safety and special teams player. If you think Jarrett steps up, we don't need a safety. If you think Jarrett doesn't step up, you need a safety. I can't knock you for your opinion either way. But in this instance, lets just pretend we need a safety.
Now, the Eagles were using their safeties in a specific way late last year. Andy Reid will probably try to tell you that the safeties are used similarly and that there is minimal differences between free and strong safety but he's lying through his teeth.
The free safety (Nate Allen) was used more as an over the top safety in cover 1. He would occasionally walk down and pick up a slot receiver if there was no nickel corner and they were playing man defense. This will only increase as the Eagles use man-to-man defense more often after Asante Samuel is traded. The Eagles were using Nate Allen in an Ed Reed kind of role, as the last line of defense over the top.
The strong safety (Coleman in this case) was used in man coverage against tight ends more often, he played closer to the line of scrimmage and he was used more often as a blitzer. And when Coleman did drop back into coverage he wasn't charged with being a single high safety nearly as often as Allen was, he was used more as a deep half safety in a cover 2 shell.
So, can Mark Barron do those things? Can he play in the box? Can he cover tight ends? Can he blitz? Can he drop back into coverage as well? Lets see.
Can he cover tight ends?
The first thing you notice about Barron is how big he is for a safety. He's just a little taller than 6'1", he has 33 5/8" arms, 9.5" hands and he has a wingspan of 79 5/8". He's got really good length; prototype length that you look for in a safety. He passes the eyeball test.
Barron is extremely physical, he'll get into a tight ends body and he'll rough them up a bit. He'll knock them off their routes and he'll mess up the timing routes that are run.
The question is, does he have the athleticism to stick with tight ends in man coverage. Some have concerns about Mark Barron being stiff and tight, causing him to lose speed as he changes directions. This would obviously be a hindrance in man coverage as he would have trouble sticking with receivers in and out of their breaks.
And some people wonder whether or not he has the deep speed to keep up with tight ends who can stretch defenses. Mark Barron ran a 4.54 at his pro-day and one scout estimated that he was at about 85% capacity after double hernia surgery in January. Personally, I do not think Barron would've run much faster even if he was 100%, speed is not what Mark Barron is known for. But nonetheless, his speed should be good enough to cover tight ends. According to Ourlads, the tight end drafted from 2000 to 2006 ran an average 4.68 40 yard dash, more than a tenth slower than Mark Barron ran at his pro-day. And even the most productive tight ends, Jimmy Graham and Rob Gronkowski only ran their 40 yard dashses in 4.53 seconds and 4.68 seconds. For now, Barron's speed will be just fine.
But by all accounts, Mark Barron did a fine job covering tight ends at Alabama.
Can he play in the box?
Hahaha, I'm sorry but that isn't a question. Mark Barron has Adrian Wilson type runs supporting ability. He takes good angles to the ball, he doesn't hesitate at all and once he gets to the ball carrier, he typically makes the stop and he makes it with a loud thump. He played it so well that Alabama felt comfortable giving him snaps as a linebacker on occasion.
Want to see what he can when he hits you? This.
Mark Barron packs a whallop.
Can he cover the deep half?
He doesn't have the sort of range you want in a single high safety but his range and athletic ability are more than adequate enough to play a deep half and do it well.
Those are two perfect examples of what I'm talking about. He doesn't have the range to from sideline to sideline like you want from your free safety but when you assign him half of the field in a cover 2 shell he has enough range and he breaks on the ball well enough to be a factor in coverage.
He's got good ball skills and he's proven quite adept at making acrobatic interceptions like the one in the Penn State game.
Can he blitz?
He sure can. His arms are longer than some defensive ends' arms which allows him to keep himself clean when blocked to a certain extent but he's at his best when schemed free and given a lane. His closing speed and reckless style of play make him a weapon on blitzes. In his time at Alabama he notched 5 sacks despite not being used as a blitzer all that often because of Nick Saban's Bill Parcells style, gap control, conservative and traditional defensive system.
Other odds & ends:
Mark Barron played all four years under Nick Saban and he started his last three. He's extremely experienced having started 38 games at Alabama, including two national championships. For the past two years Barron was charged with making the calls in the secondary which is quite impressive on it's own but especially impressive when you realize he was playing in Nick Saban's system that projects very easily to the next level.
Mark Barron was a key cog on one of the best defenses in college football history. In 2009 Alabama ranked second in total defense, rushing defense and scoring defense with Barron starting at free safety on their way to a national title. In 2010 with Barron starting the Crimson Tide ranked fifth in total defense and third in scoring defense. And in 2011, Barron was a starter on a squad that had a legitimate claim to the title of greatest college football defense ever. In 2011 Alabama was first in total defense, scoring defense, rushing defense, passing defense, third down defense and red-zone defense. Alabama allowed less than one touchdown per game in 2011. And all of this happened with Mark Barron calling the shots in the secondary.
He was a two time team captain for Alabama and by all accounts he's a hard worker who puts in his time in the weight room and in the film room. And on the field he did a very good job directing the secondary. He's supposedly a very good leader.
Mark Barron plays with no regard for himself or others, he throws his body around and it shows on the injury report. Mark Barron has serious durability issues. In the past three years he's had a torn pectoral muscle, torn rib cartilage and after the 2011 season he had double hernia surgery that held him out of the Senior Bowl and the Combine.
Alabama defensive players haven't transitioned especially well to the NFL ever since Nick Saban took over. Nick Saban is an extremely good coach who knows how to cover up the flaws of his players and he keeps his players in line. The players start getting exposed at the next level and they sometimes get lost with all the newfound freedom they have. Rolando McClain, Kareem Jackson, Rashad Johnson, Javier Arenas and Andre Smith all really struggled with their transition to the NFL. But maybe things are turning around for Saban's players, Terrance Cody is turning out well in Baltimore and Marcell Dareus and Julio Jones both enjoyed very successful rookie seasons.