All is quiet on the Eagles' landscape right now as they head into the draft and quite frankly I'm bored with an hour or two to kill so I'm making a mock draft just for fun.
Some notes:
-I'm not going to predict the Asante trade. I don't think he'll be back but I have no idea what we'll get in return (if we get anything at all). But I am predicting he won't be back. For the sake of this mock draft you might as well just assume he was cut.
-I believe the Eagles will add a veteran safety at some point.
-No trades.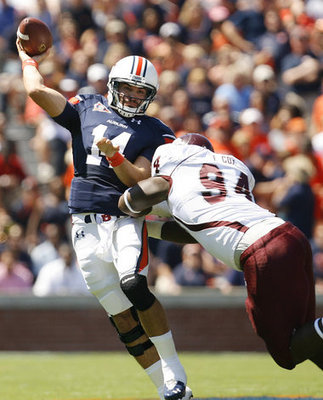 1st round – 15th pick: Fletcher Cox DT Mississippi State
-Fletcher Cox has the potential to be an absolute heathen at defensive tackle, especially in a scheme that allows him to attack upfield and penetrate (ala Washburn's, its a perfect fit). Its not every day that a guy who is 6'4″ and 300 pounds with 4.7 speed and 34.5″ arms comes around. Fletcher Cox even played some defensive end at Mississippi State. His quickness off the line and ability to redirect are freakish for a defensive tackle. But he isn't just a quick guy, he has power and strength too. Fletcher Cox has the ability to bullrush and overpower offensive linemen too. He has every tool you want from a defensive tackle and he could probably produce under Washburn right away. But here's whats scary, Fletcher Cox is still really raw and he got by in college with effort and athleticism. Once Washburn gets his hands on him and teaches Cox how to play lower, use his hands better and teach him some more pass rush moves, Cox could be an all-pro type player that is known as one of the premier interior pass rushers in the game.
2nd round – 14th pick: Vinny Curry DE Marshall
-With their second pick in this mock draft I have the Eagles continuing to add youth to their defensive line. The Eagles line was really good last year but they're also getting older and they lack young guys you can build around in the future. If Brandon Graham recovers from his knee injury well and you couple him with Fletcher Cox and Vinny Curry the Eagles could have a very good cast of young defensive linemen.
Vinny Curry is an explosive end from Marshall; Curry put up 23.5 sacks along with 40 TFL and 9 FF the past two years. He isn't a very disciplined player and one of the big knocks on him is that he needs to be put in a scheme where he can "pin [his] ears back and go" (source). That being true, what better scheme for him than Jim Washburn's? Vinny Curry can eat up space off the line (he's really quick off the snap) and he'll give slower tackles some trouble but he's not the most agile, turn the corner, Dwight Freeney type. No, Curry won't consistently beat NFL caliber tackles with his speed but what makes him good is that he shows the ability to fight through contact, he's strong enough and determined enough to just go through blockers at times. He's just a really strong, explosive and natural pass rusher who can do a number of things moving forward and he's got the motor to consistently give 110%. He could be a terror in Washburn's scheme where pass rushers like Curry who can "convert speed to power" thrive.
2nd round – 19th pick: Bobby Wagner LB Utah State
-Turn on the tape and this guy balls out. He's not very tall (he's only 6' tall) but he weighs 240 pounds already and has really long arms (he has a 7' wingspan according to the Utah State coaching staff). He is strong enough to stand up blockers. He can rush the passer (with actual moves) thanks to his long arms and quick hands. And he is fluid and quick enough to carry a TE down the seam or a RB on a wheel route. He played inside at Utah State but he looks like an NFL SAM linebacker and he looks like he could be a really good one. He was extremely productive in college and he's a top notch tackler that locates the ball really well. He has the versatility to play inside and outside and by all accounts he has the type of mentality that you look for in a linebacker (and he'll play special teams too). He has a really good feel for the game and nose for the football, he is always around the ball and he hits very well. He has development to do in terms of recognizing what the offense is doing and reading his keys but he is a very good athlete who always plays hard and will always give his all in pursuit of the ball.
3rd round – 25th pick: Juron Criner WR Arizona
-When you look at the Eagles receivers you notice that they aren't a very big group, of the three good ones the biggest is Jason Avant. Riley Cooper is big but he doesn't play big because he body catches the ball and another thing I noticed is that often times when he jumps he doesn't stop and jump straight up, rather he jumps on the move and fades backwards (thus not getting as vertical as he could). And our tight ends aren't overly big or athletic either; Brent Celek has 31″ arms and only registered a 29″ vertical jump at the combine and thus he doesn't have the ability to play above the defense like most elite tight ends around the league.
So, how do you solve this? You add a big 6'3″, 224 pound receiver with 32″ arms, 10.5″ hands, a 39″ vertical jump and a "my ball" mentality. There are questions about his dedication to the game and his desire to be great as he doesn't always play his hardest and his route running isn't as good as you would want it to be but when he is playing his hardest he can flat out catch the ball. With his size to bully corners, his hands, toughness and run after the catch ability you'd think that so long as he dedicates himself he could become a very good possession receiver.
But now you're probably wondering why the Eagles are taking a situational receiver so high. Well, Riley Cooper flopped in extended playing time last year and the offense really suffered when DeSean Jackson and Jeremy Maclin were hurt. And both Jackson and Maclin have missed time the past two seasons so investing in some good receiver depth might be worth it. Plus, DeSean Jackson is virtually useless in the red-zone  as he has only caught 1 TD the past two years inside the 20; working in a receiver who can actually make plays in tight areas would really help improve what has been a very mediocre red-zone offense the past few years.
4th round – 19th pick: Russell Wilson QB Wisconsin

-After the "big three" QBs (Luck, Griffin, Tannehill), the guy that I'd be most comfortable with is Russell Wilson. I honestly believe that if he were four inches taller he'd be more highly regarded. But I don't think Andy Reid is going to care all that much about Wilson's height. Why? Because 11 different QBs have thrown passes while Andy Reid coached and the average QB is 6'2″, not very big by NFL standards. Andy seems to prefer shorter QBs but it isn't the height of the QB itself that matters, rather its what the height indicates. Smaller guys tend to be lighter on their feet and that allows them to move around the pocket, quickly reset their feet and get off an accurate throw. Also smaller guys have less moving parts and thus their delivery is typically naturally faster than that of a tall guy. If you look at guys that Andy Reid likes, you'll notice that they all know how to move. You don't have any plodding pocket QBs, they can all move around, gather their feet, create new throwing platforms and get the ball off at a number of different angles. He likes guys who can run, see: McNabb, Garcia, Vick, Kolb, Young and Kafka. Russell Wilson can do all of those things, he fits what Andy Reid likes in a QB. And in addition to those things Russell Wilson has the arm to make just about any throw you ask of him, a clutch gene and he's perceptive, intelligent and hard working.
And consider that the Eagles already use the shotgun formation and move the QB around just as often as any other team in the NFL because of Michael Vick's height and athleticism. The things the Eagles do to help Michael Vick would also help Russell Wilson.
But there have been guys like Wilson who have fallen recently because of their height. People say he's going to struggle to see over big offensive linemen but he was one of the best passers in the nation behind the biggest offensive line in college football. Teams are going to take him off of their boards and I think they're going to regret it as I can foresee a Jeff Garcia or Mark Brunell type career from him (both short, athletic passers).
5th round – 18th pick: Michael Smith RB Utah State
-The most under appreciated prospect in the draft is ____. If you guessed Michael Smith, you think the same thing as me. I'll give you a really quick overview of his stats and workout numbers and you try and tell me why he isn't being talked about, okay?
Michael Smith is 5'8″ and 206 pounds. At his pro-day he benched 225 pounds 23 times (same as Ray Rice and better than Maurice Jones-Drew). Smith has a vertical of 40.5″. Oh and he blazed a 4.33 40 yard dash too. On his career he had 184 carries, 1313 yards, averaged 7.1 yards per carry, caught 38 passes, had 2 receiving touchdowns and averaged over 20 yards per kick return (albeit on only 5 career returns).
So why is a guy who is that athletic, that strong and that efficient being slept on? Because he played at Utah State? Because he was the second option running the ball? Probably but he's still a pretty good prospect who profiles as a nice change of pace guy at the next level. Most small running backs are dancers who bounce runs outside; David Wilson, LaMichael James and Ronnie Hillman are all guys who dance. They've got nice tools and they're damn good dancers but can they consistently be disciplined, tough runners? Remains to be seen. But that isn't the case with Smith. Smith absolutely doesn't shy away from contact, in Utah State's scheme he actually ended up as a lead blocker on the edges quite a bit. He is a disciplined runner who will run between the tackles and understands the benefit of following his blockers and not dancing. He's a good receiver out of the backfield and a willing blocker (he'll never be a great blocker because of his size) although he does need some pointers on how to block.
I'll gladly take a guy like Smith at this point over guys like James and Hillman higher in the draft. Thats not a knock on them, I just think Smith is the better value. In the later rounds you'd be getting an electric yet disciplined change of pace runner who can rack up yards from scrimmage and you'd be well served to at least give him a shot at returning kicks. And his tough, selfless attitude would suggest that he'll be more than willing to play on kick coverage units, something Dion Lewis and Ronnie Brown weren't exactly great at.
6th round – 2nd pick: Adam Gettis OL Iowa
-Its kind of crazy to think about how drastically the offensive line changed in just one year under Howard Mudd. And I'm not even talking about how well they played, I'm talking about the contrast in what it looks like. Under Juan the line was looking for mammoths like Shawn Andrews, Stacy Andrews, Nick Cole, Jamaal Jackson, Todd Herremans and Max Jean-Gilles. Under Mudd the Eagles are stacking up on undersized guys like Jason Kelce, Julian Vandervelde, Evan Mathis (who weights about 285 nowadays), Mike Gibson and Steve Vallos. We went from over-sized maulers to undersized, athletic, smart guys in less than one calendar year. Mudd isn't not looking for giant guys like Shawn Andrews, he's looking for guys who can move, get to the second level and be more mobile. He's looking for smart players since so much of the ZBS is based on communication, recognition and technically sound play.  And typically the interior of the line is short and stout, not many are much taller than 6'3″. The contrast is just incredible to me.
And as the Eagles continue to build their offensive line and move away from the "big guys", they need to add more depth. Right now the only three back-ups on the interior of the line are Julian Vandervelde, Mike Gibson and Steve Vallos. I'm sure Mudd could make it work but I think Andy would like to bring in some added competition. Enter Adam Gettis, at 6'2″ and 293 pounds he fits the Mudd mold. As is typical of Iowa players, Gettis is a very fundamentally sound player who doesn't need much technical work. He's a very quick and smart pass protector and he's very mobile and coordinated run blocker, able to wall off targets at the line and hit targets on the second level.
6th round – 24th pick: Coty Sensabaugh CB Clemson 
-A really smooth athlete with good bloodlines. He has flashed shut down ability at times but inconsistency and not seeing the field until later in his career make him a risky pick. Could be in for a Sam Shields type surprise with this guy. Good height and length (31″ arms). Quick and fluid hips. Deep speed (4.42 at the combine). He can compete for the ball with bigger receivers (37″ vertical). And he showcased the short area quickness needed to stick with players in and out of their breaks with the 5th fastest 3 cone drill time at the combine. He played a lot of press man at Clemson so the transition to Philadelphia's coverage scheme shouldn't be terribly drastic for him. Sensabaugh has starter potential and his athleticism makes him an intriguing project as a boundary corner.
6th round – 30th pick: Mike Harris CB Florida State
-The Eagles haven't exactly been faithful to Joselio Hanson lately and I see no reason for them to start now. They've shown a willingness to replace him and they only brought him back when he took a pay cut. Hanson is an above average nickel corner but he's getting old and he's never been a big special teams contributor. Why not bring in competition? Mike Harris was primarily the nickel corner at Florida State and he was a darn good one. Jimbo Fisher couldn't stop gushing about him and LaMarcus Joyner called him the most technically and fundamentally sound defensive back on the Seminoles roster, "hands down". In his only two seasons at the D-1 level he notched 99 tackles, 5 interceptions, 14 passes defensed, 1 sack and 2 forced fumbles. He's a smart, sound and physical corner who is ready to be a factor in a nickel package right now and he's a good special teams player too. The knock on Harris is that he doesn't have elite deep speed but that won't be much of a factor inside at nickel corner where he won't be facing as many burners as he would is he were playing on the outside.
QB (3): Vick / Kafka / Wilson
RB (3): McCoy / Lewis / Smith
FB (1): Havili
WR (6): Jackson / Maclin / Avant / Criner / Cooper / Hall
TE (2): Celek / Harbor
LT (1): Bell
LG (2): Mathis / Gettis
C (2): Kelce / Gibson
RG (2): Watkins / Vandervelde
RT (2): Herremans / Dunlap
LE (2): Babin / Graham
DT (2): Jenkins / Cox
DT (2): Patterson / Landri
RE (3): Cole / Curry / Hunt
SLB (2): Wagner / Fokou
MLB (2): Ryans / Matthews
WLB (3): Rolle / Jordan / Clayton
CB (5): Asomugha / Rodgers-Cromartie / Marsh / Hanson / Sensabaugh
SS (3): Jarrett / [Insert Veteran Here] / Anderson
FS (2): Allen / Coleman
K (1): Henery
P (1): Henry
LS (1): Dorenbos